The next in our tandem babywearing series, Sarah talks about wearing her toddler and her infant. Previous posts on tandem babywearing include Ruby's post on wearing her newborn twins.
I never intended to spend several hours a day wearing a three-year-old and a baby at the same time…. it just happened that way. My two-year-old was still happy to be worn throughout my second pregnancy, and I had no intention of stopping after the baby was born. I expected my older child to be worn less and less throughout her fourth year, but she knows when she's onto a good thing!
We moved to India for five months soon after the baby was born and wearing two became an absolute necessity. We were living in the mountains and walking several hours a day, taking advantage of great hiking trails but also just doing what we had to to get around without a car or access to public transport. The roads were too rough and steep for a stroller and fraught with dangers and annoyances for a walking child, like maniac drivers, stray dogs, cows and monkeys and cowpats and other excrement. Now we're back in Australia and even though I have a hefty seven-month-old we're still going strong!
Because tandem babywearing has been so essential for me, I've been forced to make it work as effectively as possible. The carriers that work best for me may not suit everyone, but here's what I've learned about tandem carrying in general:
Considerations when choosing your carriers:
Bulkiness – The carrier that goes on first generally needs to have thin straps, which can sit unobtrusively under the second carrier.
I use a Mei Tai on the front first and have my older child in a structured carrier on my back. It helps to have carriers which tie in different places – e.g. one at the waist and one at the hips.
I occasionally use a ring sling on the front but it's hard to get the back carrier straps positioned snugly over the bulky sling fabric. It works best with an unpadded ring sling with a trim shoulder style and thinner fabric. I like a pleated shoulder.
Invest in a babywearing coat for cold weather – it's hard to get two sets of shoulder straps to sit comfortably over a bulky coat or jumper.
Ease of use – it's going to take you twice as long to get ready as it does with only one child – streamline things as much as possible by choosing carriers you can put on quickly. It's also hard to take the time to do a complex back carry properly when you already have a baby dangling from your chest!
Think about 'poppability' – does your toddler like to get down and walk regularly? Does your baby need to be taken out to be fed or pottied a lot while you're out?
Weight distribution – choose carriers which distribute weight to different parts of your body – e.g. a front carrier like a wrap or Mei Tai which puts the weight on your shoulders and back, and a structured carrier which distributes the weight to your hips. I've carried two in one ring sling, and it's quick and easy but gets heavy very quickly!
Think of tandem babywearing as a strenuous sport and 'train' accordingly:
Practise every day or nearly every day to stay in shape.
It's the ultimate progressive weight training system – so start early, with a newborn or preferably during pregnancy if you feel comfortable.
Take it easy the day before and after a long session of tandem wearing. I can manage a four-hour hike if I limit tandem babywearing to 30 minutes or so the day before, otherwise I end up with aching shoulders very quickly. Expect to feel exhausted the next day!
Become more aware of your body's needs – in particular be gentle on your knees. I tend to hyperextend my knees when walking fast so I keep my pace slow and steady and use ski poles for steep descents.
Never sacrifice correct positioning to accommodate a tandem carry – it's even more important when you are carrying extra weight.
If you use a Mei Tai on the front, the straps will have a tendency to ride up to your neck. Make sure they stay under the straps of the second carrier as you put it on.
Take the time to put the first carrier on correctly and always bounce and tighten. Retie both carriers if you need to – it's worth the extra time it takes.
Travel as light as possible
I can get everything I need for a longish walk, including drink bottles and snacks into a furoshiki bag made from a napkin, which I tie on to my waist belt.
Heavy grocery bags are a killer – invest in a nana trolley!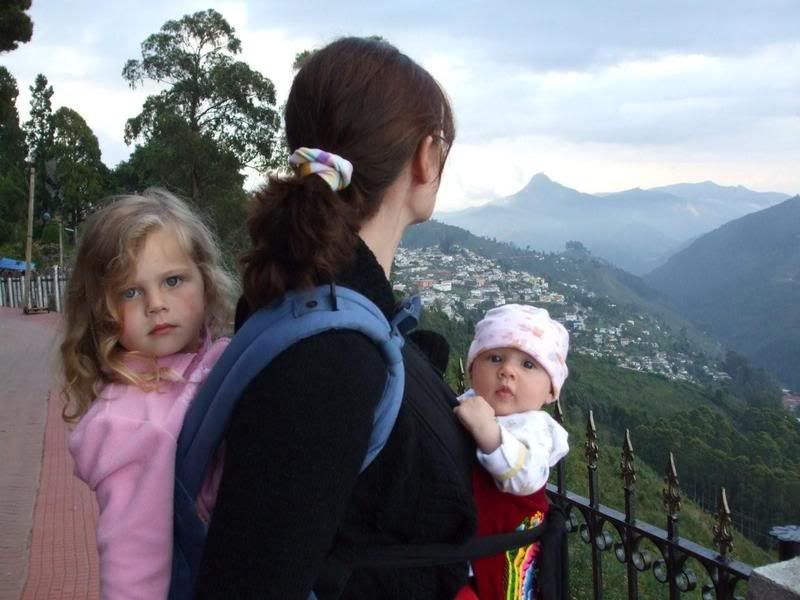 Keep an eye out for other tandem wearing posts during March. Did you muscle up and wear your toddler and your infant when your family expanded? What worked for you? How did you go about it? Share with us!