Well, maybe not everything…. But enough to convince you that you have to try one.
Onbuhimos (onbus) are traditional Japanese baby carriers. They look a lot like Mei Tais but have rings at the bottom instead of straps.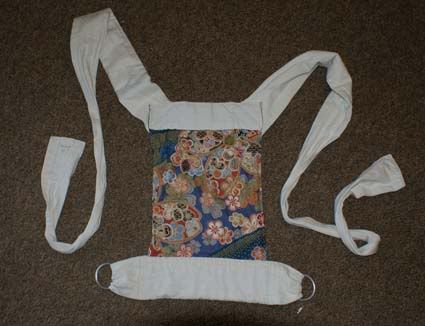 Why you need an onbu…
Cool for the baby in hot weather, because of the small body size.

Fast and easy to put on.

Can be used by people with shoulder mobility problems, who can't cross mei tai or pod straps behind their back.

Very light and compact when not being used – packs away to nothing.

Can be pre-tied for a poppable front or back carry.
And the downside…
Can't be used for younger babies (they would fall out of the sides).

Not suitable for babies who like their arms in.

May not be supportive enough for older toddlers.

Some people don't like the feel of the weight distribution compared with a mei tai.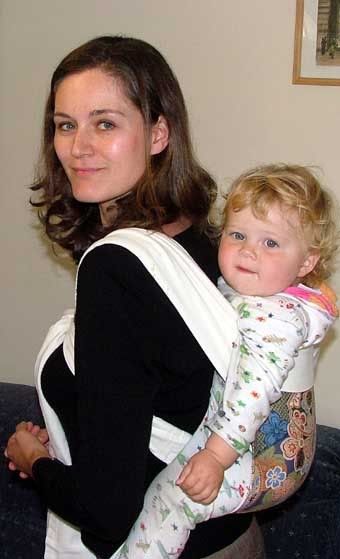 Back carry
Toss or hip-scoot the baby and the carrier onto your back. I find tossing the baby onto my back the easiest method as it gets her nice and high, which I find to be the most comfortable position in an onbu.
Make sure the straps are under her arms (my babies have a suicidal tendency to tuck their arms in at this point and fall out the bottom, so I am always very careful!)
Pass the straps over your shoulders and hold them firmly between your knees – this holds the baby in place while you thread the rings.
Tuck the bottom of the carrier between the baby's legs and under her bottom to create a seat.
Thread each strap through the ring on the same side.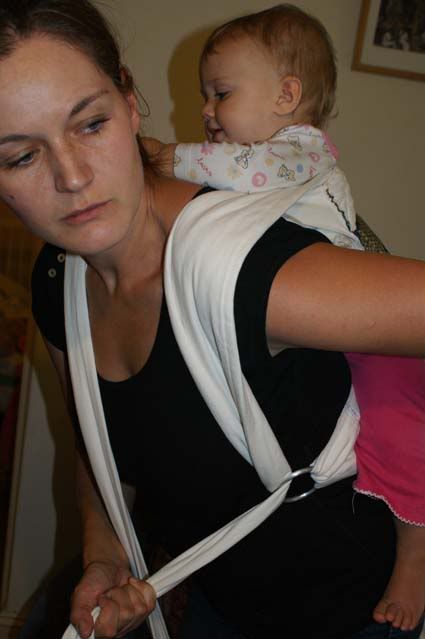 Give a bounce and tighten; then tie at your waist, above your breasts (if you have them) or Tibetan style. You will soon get a feel for what's most comfortable for you.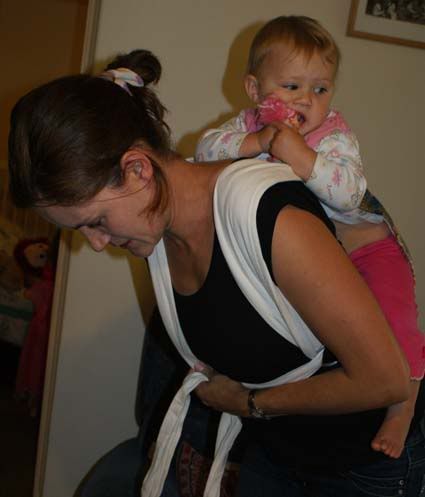 Straps over or under the legs?
If you see pictures of onbus being used in Japan, you may notice that they usually tie the carrier with the rings over the baby's legs rather than under. This traditional method looks like it could be insecure, but it's very comfortable and safe if tied correctly. The baby sits with her knees higher, which sometimes feels better for both wearer and wearee.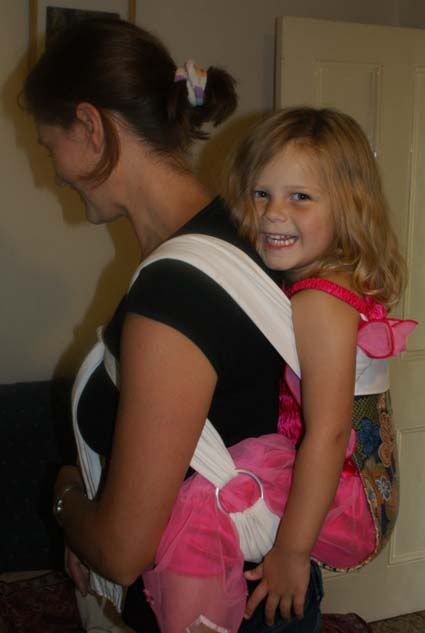 Unfortunately most western onbus are not designed to be used this way. You need to have an onbu with rings on a strap extending a few inches from the body of the carrier. Check out these Japanese onbus and see how far out the rings are placed. As you can see from my pic above, I can only just do it with my onbu – if the rings were closer to the carrier body they would cut into Emmy's legs.
There's another disadvantage to this techinique: a younger baby will sometimes sit too low in the carrier. I don't do it with ten-month-old Meena as I'm worried she'll fall out!
Pre-tying for back carries
For the ultimate in convenience you can pre-tie your onbu and put it on like a structured carrier! Check out this video to see how. Unfortunately when I try to do it I find my onbu just slithers down into a heap on the ground. It's easier to do with a carrier which has loops of fabric rather than rings, as it's grippier. Fabric loops aren't as easy to tighten though.
Front carry
Front carries are tied the same way, but you cross the straps over your back. There's an excellent photo tutorial here to show you how to do it.
But I find pre-tying is the easiest way to do a front carry with an onbu.
Tie the carrier on without the baby. I find that you need to get the carrier fairly snug against your body so that you don't need to tighten too much once the baby's in.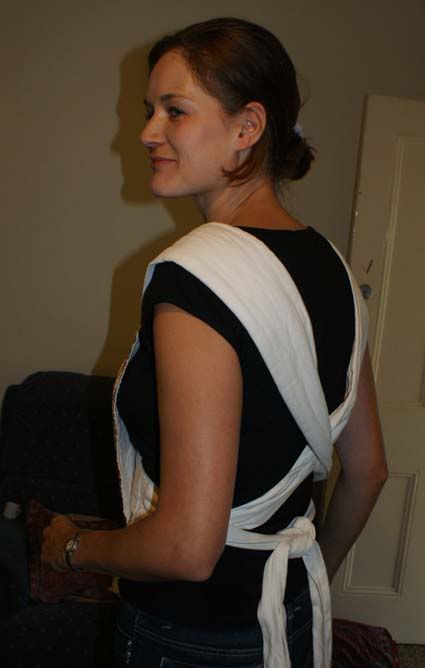 Drop the straps off your shoulders.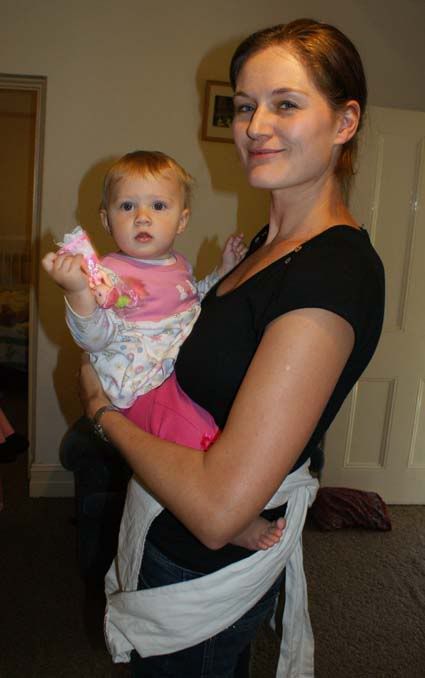 Put the baby in and lift the straps up again.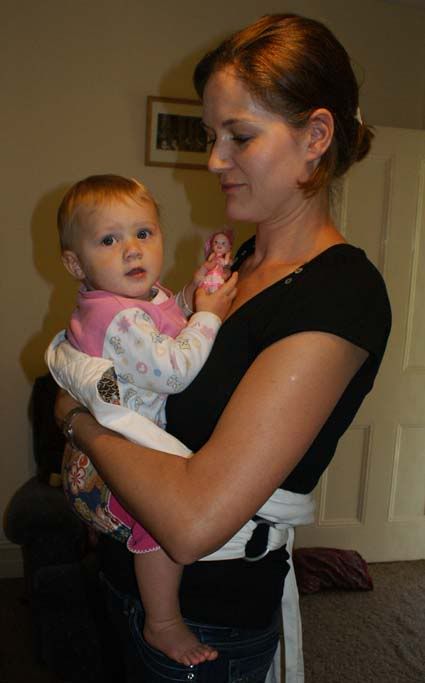 Bounce and tighten if needed.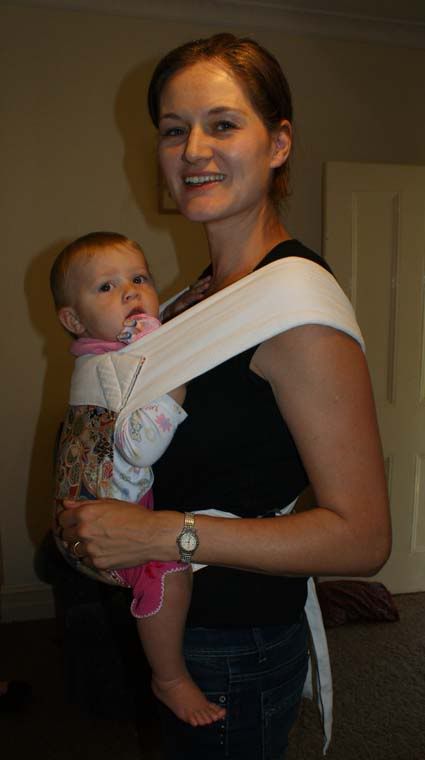 There's a great video here that shows you how to do it.
Why every wrapper needs an onbu…
Onbus can be used for practicing new or tricky back wrapping techniques, especially with a wriggly baby. Put the baby on your back in the onbu and then wrap over her. Because it's so compact, the onbu won't get in the way but you don't have to worry about a wriggly baby falling off your back.
Converting an onbu into a mei tai
Just loop a scarf through the rings to create the waist straps.
So now all you need is an onbu. You could buy one, but it would be much more fun to make one out of those placemats and table runners you never have time to use.