Birth doesn't always go to plan. Sometimes it does go to plan and that plan involves a caesar. This can present its own babywearing challenges and Rae, who's been there twice, lets us in on her strategies for babywearing after major surgery.
"I'll be back in a minute…" so said my husband, as he popped his brand new baby, all of one hour old, into our nice, clean ring sling. It was new and crispy. I was exhausted and sore, and, well , very high on the drugs from the c-section. Those first days in hospital are truly amazing – the desire to keep our babies close is so overwhelming.
But how, post C section?
In those first days after the birth, the best place for Mum and baby is in bed, snuggled up skin to skin, getting to know each other. On our way out of the hospital, I finally got a chance to use that ring sling:
For the first six weeks or so at home, I remember being just SO sore, as my body slowly healed. The best sling for this period is just a simple ring sling. There are several ring slings commonly sold through baby stores, but they are all too structured for my taste – too much padding- they severely limit the comfort possible for Mum and baby. They are designed for a very loose cradle carry, which will sit just above the stitches – way too low for comfort!
A simple, unstructured ring sling can be worn initially in a cradle hold and also in a tummy to tummy hold. Both positions keep the baby well away from the incision site, and allow the Mum to sit down and rest in a chair whilst snuggling the baby – a definite plus in that hectic time of adjustment! Instructions are available to make your own, perhaps from a sarong or some fabric from Spotlight – a wonderful thing to do prior to the birth of your first baby!
Once the scar had started to heal, it was time to get some exercise… and the next sling we found really helpful was a simple mei tai. A soft structured carrier would be equally as good for this stage, as would a wrap – they each have their advantages. I have and love each of these styles of carrier:
A mei tai is easy on and easy off, placing the straps comfortably for a front carry post c-section is very easy, a great help with muscles that are easily tired out.

A wrap can be worn in Front Cross Carry, which was incredibly easy and supportive of those weak tummy muscles!

Finally, a soft structured carrier is simply wonderful – there are some really comfortable ones out there. These two shouldered carriers are characterised by a lovely fit through the waist straps, and the baby being placed close to Mum's tummy with very supportive, comfortable shoulder straps. The more structured waist, with some padding, can be a nice help to remind you to pull the tummy muscles in.
When our second baby arrived three months ago, after another c-section, I took out that ring sling and got to wear it all over again! Only this time, I was running around after a busy toddler all too soon..
This time, I really found a wrap worn in a Front Cross Carry was invaluable. It was so handy to be able to pop the baby in and out of the wrap for feeding, whilst being able to spend some time with my daughter.
This particular wrap carry is very fast and easy to learn, and provides lovely back support for those weak muscles! I also left it on all day long – so we could drive to the park or shops, then pop the baby back in, get the toddler out of the car – and enjoy some time together. Here we are at about 3 months post c-section.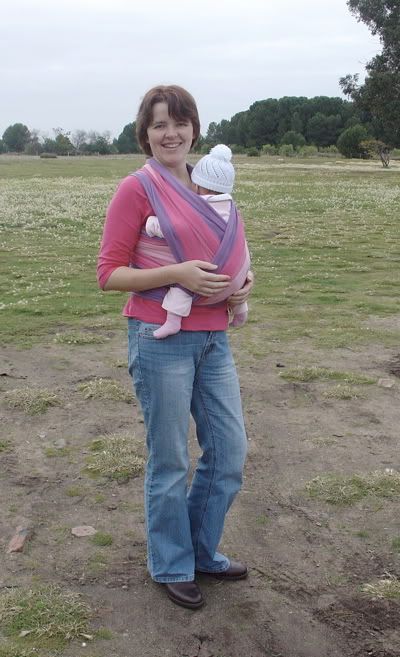 Thanks to Rae for her insight into babywearing post-caesar. Have you had a caesar? Did you babywear afterwards? What worked for you? What didn't? Leave a comment and let us know!